Separate Vocals from Music with One Click [with Demo]
Media.io Online Vocal Remover can separate all mingled-up and blended vocals and instrumental tracks from a song. This allows you to use the extracted ingredients to create new compositions of almost all types. Listen to the demos below to check the results.






Vocals


Instrumental


Recognize different languages, including English, Indian, Spanish, Japanese, French, Chinese, German, Korean, or Russian, and separate vocals from instrumentals and/or acapella from them.
Accurately separate vocals and instruments without compromising the quality of the audio or leaving any footprints of other acoustic ingredients.
Separating vocals from electronic music is more complicated as it has a thick texture and tuning effects. It is hard for computer programs to identify vocals and music from a song. With advanced AI algorithms, Media.io allows you to extract and download the music in your preferred file type in the blink of an eye.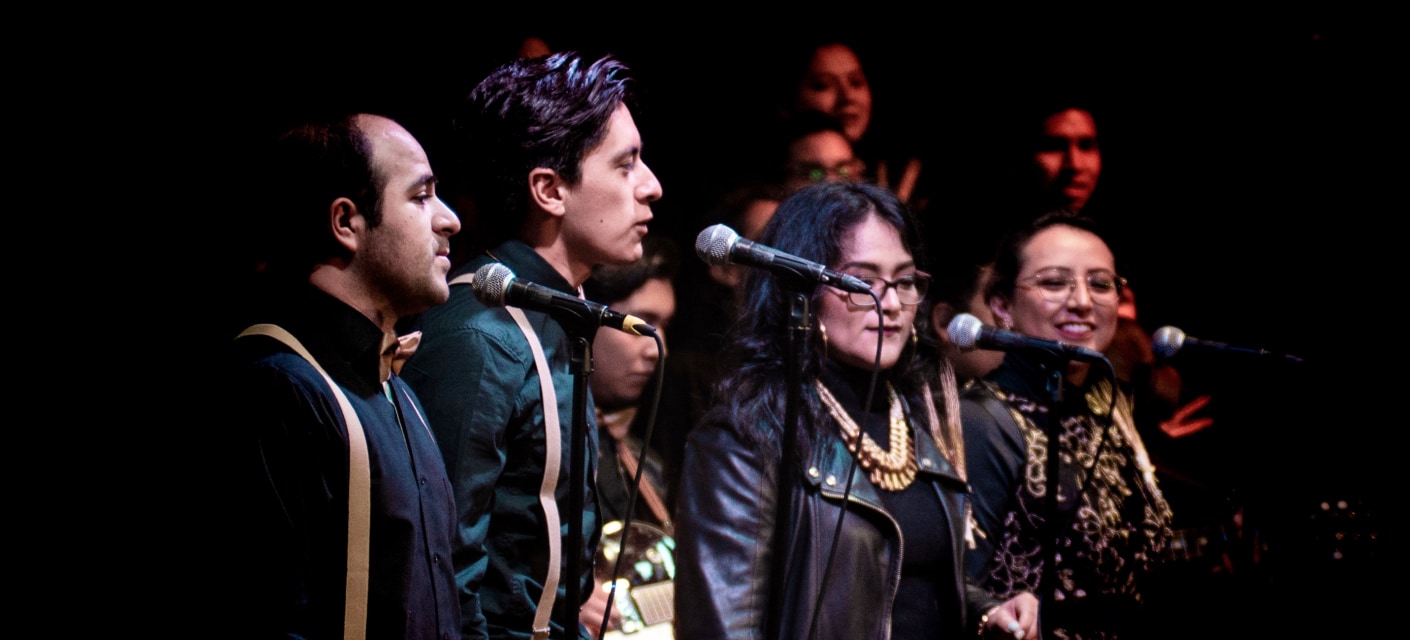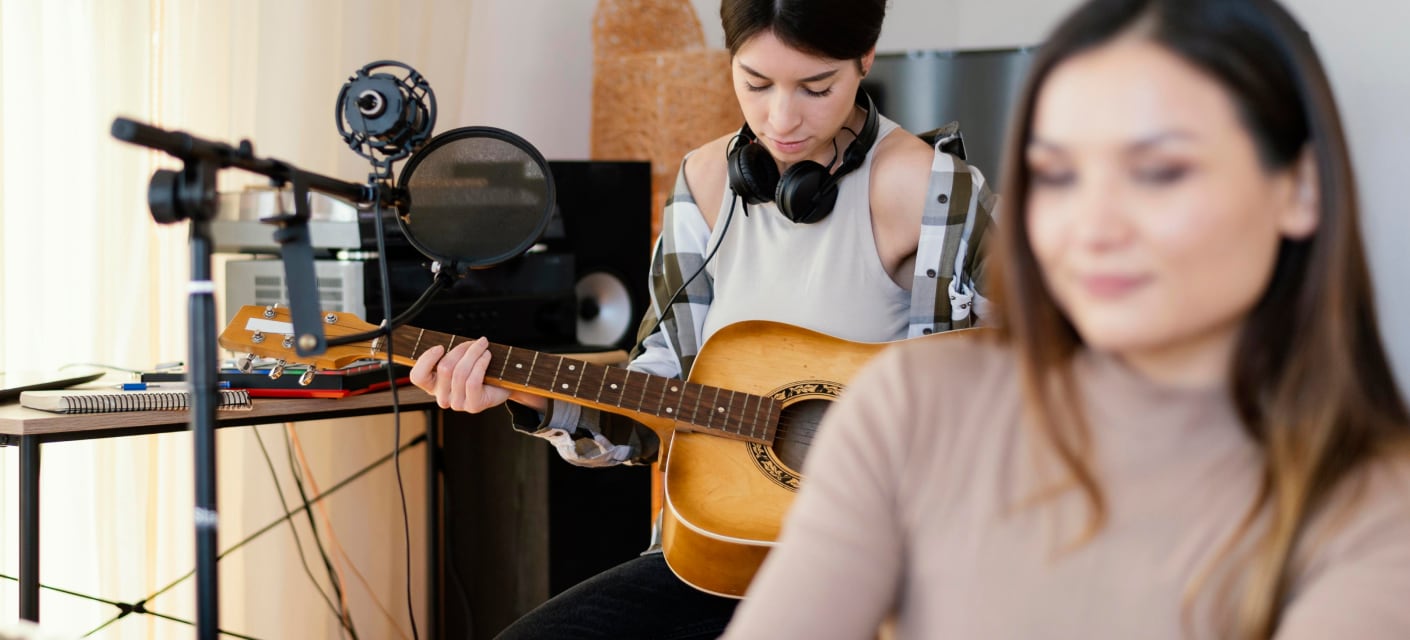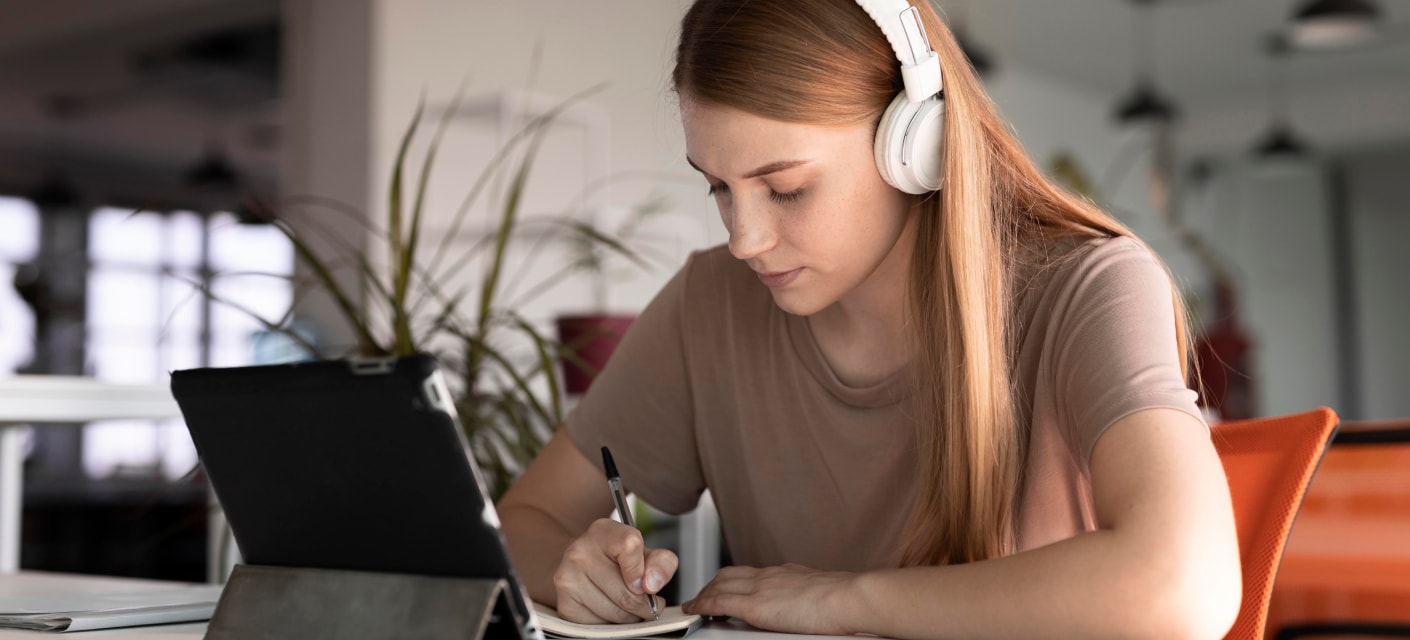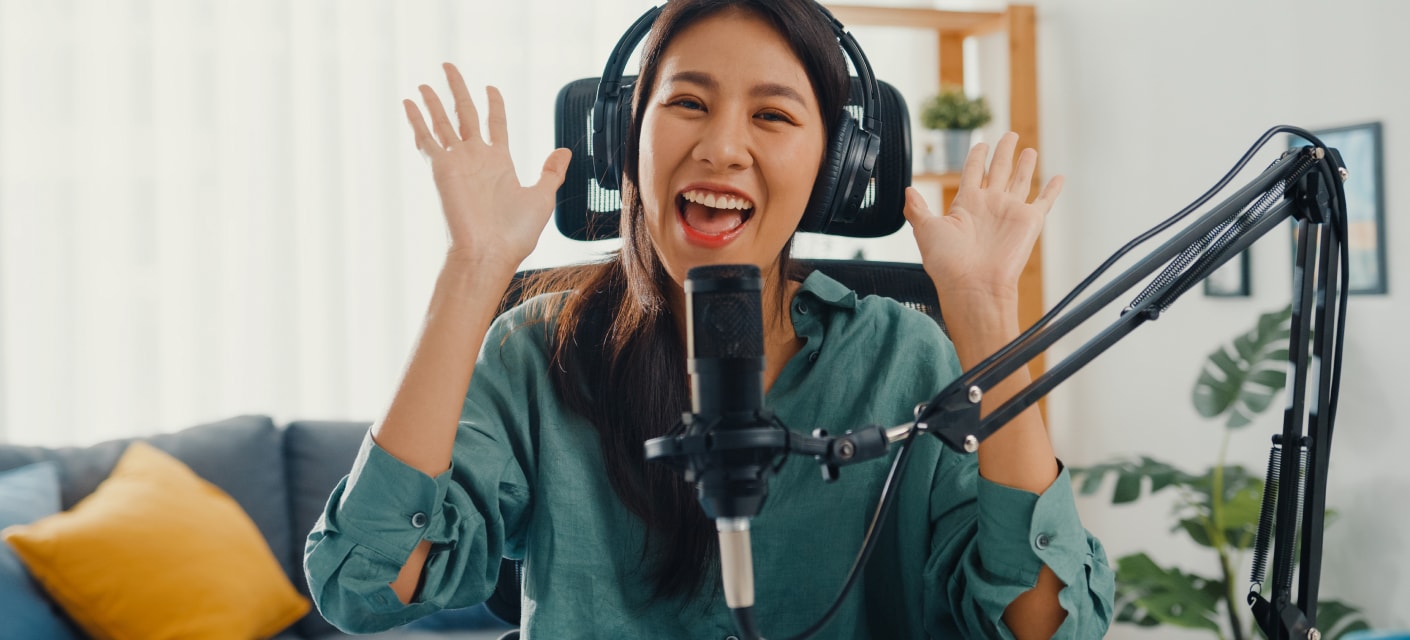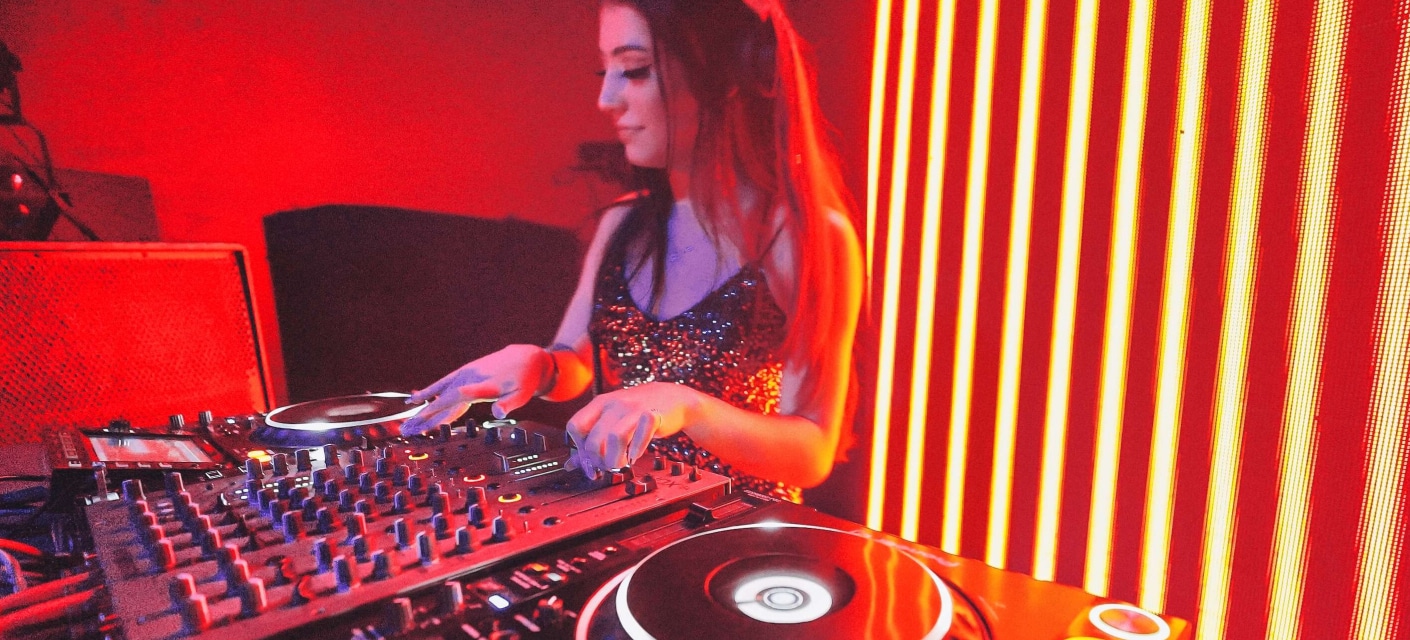 Create Karaoke Tracks from Videos or MP3 Songs
Karaoke allows new talents to showcase their skills. The higher the quality of the soundtracks, the higher the chance the artists will be recognized. With our online vocal remover, you can produce karaoke tracks of your favorite songs and potentially monetize your passion.
Make an Acapella from a Song
Removing acapella from a song was nearly impossible. However, with Media.io, you can isolate voice and use it for different scenarios, such as DJ creations. In addition, you can even add your personal acapella to the separated vocal to produce fresh and unique compilations.
Extract Instrumental Music for Practice
Unless a song is extremely popular, finding its instrumental version could be challenging. The tool is the perfect solution for those who are looking for just a music track. Simply extract the music and practice as many times as you can.
Create Instrumental Music for Study and Work
Work from home and online learning are the new normal. With Media.io AI vocal remover, you can easily extract instrumentals from a song and listen to it while staying at home alone and being more focused.
Add Extracted Instrumental Music to Videos or Podcasts
After you separate vocals and music with Media.io voice remover, you can use it as background music for your interactive videos or podcasts. This does not only help reduce the background noises but also gives a professional touch to your video.
Remix Vocals or Instrumentals
Another use for extracted vocals or instrumentals from a music track is to create a remix out of either of the two or both. Simply take control of your music by remixing it to make your piece stand out.
Why Choose Media.io Online Vocal Remover?

Quick and Automatic Track Separation
Separate vocals and instrumentals automatically with one click using AI. You simply need to upload the blended song and download the separated tracks as individual files.

Extraction with Clear Output
Our voice remover supports 44KHz. This means that you can separate vocals and instrumentals and download the extracted ingredients without quality loss.

HiFi Lossless Sound Quality
Improve the quality of bass and drum points, thus, producing lossless audios out of the source track.

Multiple Audio & Video Formats Supported
Media.io Vocal Remover supports almost all major audio and video formats such as MP3, MP4 or WMV. Simply upload and edit with just a click.
How to Separate and Remove Vocals
from a Song Online?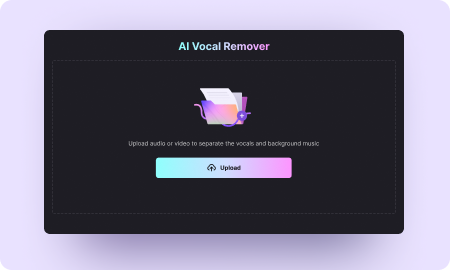 1
Upload the Source Music File
Open Media.io Online Vocal Remover on your browser and click the Upload button to import your music audio or music video track from the local storage.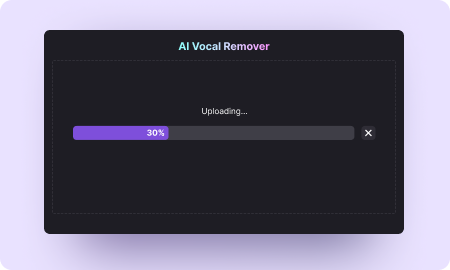 2
Auto Processing & Extracting
Media.io Vocal Remover will analyze the audio files you import and separate vocals and music from them automatically in a few seconds. Processing time depends on the file size.
3
Preview & Download Tracks
Click the Play button next to each of the separated tracks to preview the output quality. Click the Download to download the tracks.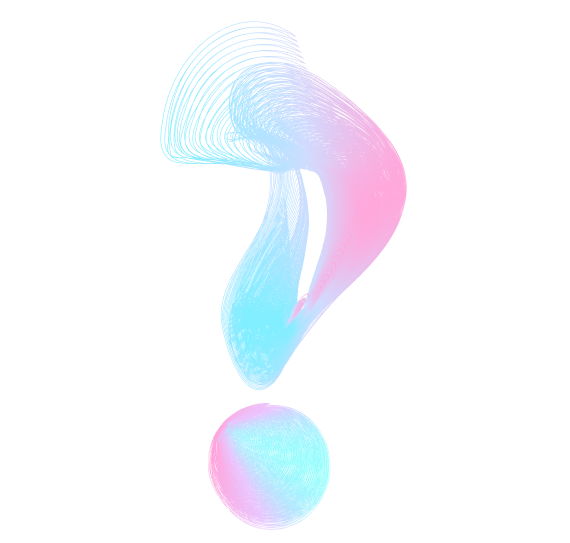 Frequently Asked Questions about
Vocal Remover
1. How to remove vocals from a song?
To remove vocals from a song instantly, visit https://vocalremover.media.io/app/, click Upload to import the source song. Media.io online vocal remover will analyze and process the file. Once the separation is completed, you can download the instrumental tracks.
2. How to isolate instrumentals from a song?
It's easy to isolate the instrumental track from a song with Media.io online vocal remover. After uploading the source file, you will see 2 tracks, — a vocal track and a music track. Save the music track and you will get an isolated instrumental track at your fingertips.
3. Can I upload multiple audio files to remove vocals?
Our online vocal remover can currently process only one file at a time.
4. What file types can I upload?
Our vocal remover supports almost all major file types like MP3 and MP4. If the file format is not supported, you can always convert it to MP3 and upload it.
5. What audio format does Media.io Vocal Remover export to?
Media.io Vocal Remover currently exports all the tracks in MP3 format by default.
6. Can I remove vocals from a YouTube video?
Yes, you can remove vocals from a YouTube video with Media.io Online Vocal Remover. Simply save the YouTube video to your local storage and upload it to extract vocals and instrument tracks.
I wanted to practice for an annual event, and the song I chose didn't have a karaoke version. Thanks to Media.io online vocal remover, I can separate the vocals and create a karaoke track to practice as many times as I can.
Larry
I love listening to light instrumental music while studying. However, it's not easy to find an instrumental version of my favorite songs. With the AI vocal remover, creating instrumental songs is a breeze.
Louis
Some songs have the best acapella. However, YouTube or other similar streaming platforms don't have those choruses. Once I discovered what Media.io vocal remover can do, I always use it to separate vocals, instrumentals, and acapella from my favorite songs to use them in my projects.
Matthew
What People Say About Media.io

Vocal Remover
Take a Deeper Dive into Audio Editing Tools
Unleash Your Musical Talent and Vocal Power